Oncology
Studies indicate that up to 40% of cancer patients globally are suffering from malnutrition. Many different conditions determine whether cancer is accompanied by weight loss and/or pathological, extreme emaciation (cachexia). Over the course of six months, a weight loss of more than 10% is a clear red flag for cancer. The muscles are primarily affected by the unwanted weight loss known as "wasting". It is especially important to regularly obtain precise weight measurements of patients with this clinical condition since cachexia is the direct cause of death in more than 22% of oncology cases.
EMR ready measuring station for height and weight with directprint function
Product Details
Graduation
50 g < 150 kg > 100 g
Our Recommendation
Determine weight and height – in just one step.
The seca 285 dp measuring station with wireless transmission is the ideal screening tool for the diagnosis of malnutrition. BMI can be quickly and precisely determined on the basis of the digital measurement of weight and height.

Immediately after the patient's weight and height have been measured, the digital measuring station provides the patient with a personalized printout outlining his nutritional condition based on his BMI. The printout provides valuable insight and practical tips on nutrition, maintaining a healthy lifestyle and information regarding energy expenditure which is used as the basis for nutrition therapy.

It's apparent in the construction of the platform that the seca directprint 284 measuring station was especially developed for routine hospital use. The non-slip platform made of safety glass is easy for patients to step onto and offers a secure foothold.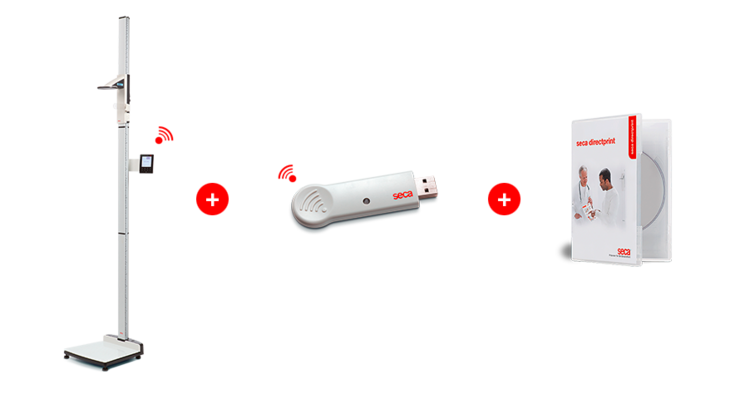 EMR ready stadiometer for use anywhere with display on the headpiece
Product Details
Measuring range
30 - 220 cm
Our Recommendation
The new quality in height measuring is not only solid but also features wireless transmission.
Radiation therapy is not infrequently accompanied by a reduction in the patient's height. A reproducible height measurement is indispensable for a precise assessment of the effects of treatment.

The seca 274 digital stadiometer with wireless transmission uses the four-point measurement method. The patient's feet are placed against the heel positioner so that buttocks, sacrum, and thoracic vertebrae lightly touch the measuring rod. The Frankfurt Line on the head positioner ensures the precise positioning of the patient's head, with the line connecting eye and ear parallel to the floor. With the patient thus fixed on four points, the measurement results can be reliably reproduced.

Measurements can be transmitted wirelessly to a seca 360° wireless printer, a PC, or a wireless scale.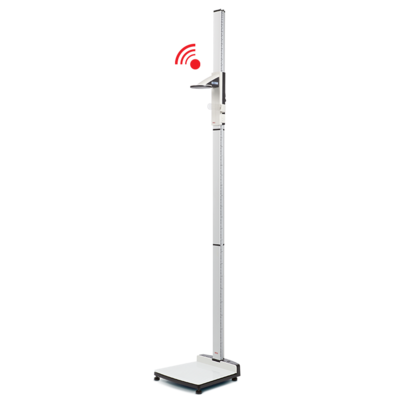 Medical Body Composition Analyzer for determining body composition while standing
Product Details
BIA measuring period
17 seconds
BIA measuring frequency
1; 1,5; 2; 3; 5; 7,5; 10; 15; 20; 30; 50; 75; 100; 150; 200; 300; 500; 750; 1,000 kHz
BIA measuring method
8-point Bioelectrical Impedance Analysis
BIA measurement segments
Right arm, left arm, right leg, left leg, right half of body, left half of body, torso
Our Recommendation
A body composition analyzer that delivers medically precise results.
The seca mBCA 515 measures fat mass and muscle mass with medical precision that yields reproducible results.

Cachexia, for example, can be detected by a clinician so nutrition therapy can be initiated early.

The analytical Body Composition Chart (BCC) and Bioelectric Impedance Vector Analysis (BIVA) are the ideal tools to track and evaluate a patient's nutritional status.