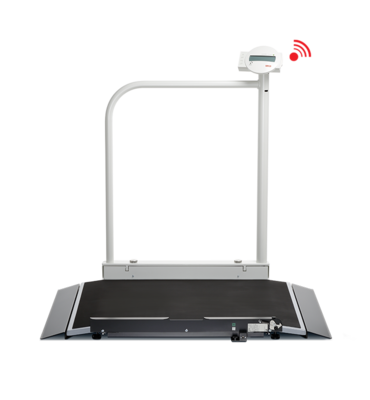 seca
677
Class III medically approved
Product Number

677 7021 198
EMR ready wheelchair scale with handrail and transport castors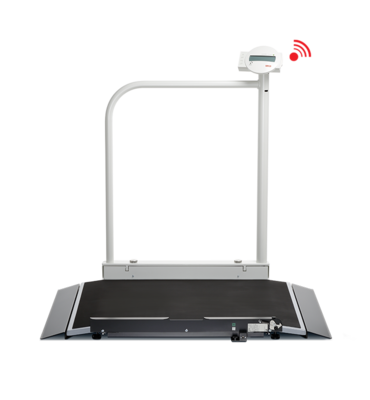 ‎£
‎£ 1,529.00
(‎£ 1,834.80 Inc. VAT)
Plus delivery costsShipping Costs
Above £ 100 order value: ‎‎£ 0
Below £ 100‎ order value: ‎£ 5
Dispatched within 3-7 working days
Quick Overview
Key-Technical Data
Graduation
100 g < 200 kg > 200 g
Scope of Delivery
Mains adapter
two access ramps
Description
Product Properties
Generously sized platform.
Very stable railing as standing aid.
Foldable and mobile.
Space-saving.
Pre-TARE function with three memory cells.
At the press of a button measured results can be transmitted wirelessly to a seca wireless printer or a PC.
Safe weighing – even when standing is difficult.
It is good when one is physically fit and mobile. But unfortunately not everyone is: many people find it increasingly more difficult to walk and stand when they get old. Many suffer from metabolic illnesses such as diabetes and often suffer from overweight as a result. Old and young alike suffer injuries such as, for example, a broken bone; women are strongly impeded in the last months of a pregnancy. Hospitals, surgeries, rehabilitation centres as well as geriatrics and nursing homes must be prepared for all these handicaps. And they are – with the wheelchair scale seca 677.
Key-Technical Data
Graduation
100 g < 200 kg > 200 g
Scope of Delivery
Mains adapter
two access ramps
Technical Data
Technical Data
Power supply
Mains adapter
Graduation
100 g < 200 kg > 200 g
Functions and Properties
EMR ready
Auto-clear
Auto-HOLD
PRINT
SEND/Auto-SEND
Automatic weighing range switch-over
BMI
Adjustable damping
HOLD
Pre-TARE
RESET
TARE
Transport castors
Accessories
System
System
This product is compatible with all EMR systems and with the following EMR ready seca products.