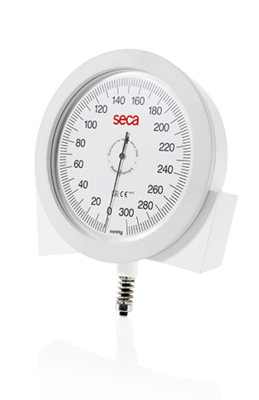 seca
b41
Product Number

b410004001
Manual blood pressure monitor with large scale and flexible options for use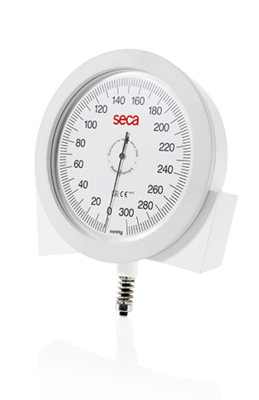 ‎£
‎£ 75.00
(‎£ 90.00 Inc. VAT)
Plus delivery costsShipping Costs
Above £ 100 order value: ‎‎£ 0
Below £ 100‎ order value: ‎£ 5
Dispatched within 3-5 working days
Quick Overview
Key-Technical Data
Measuring range
0 - 300 mmHg
Main components
Polycarbonate
Description
Product Properties
Overview: 140 mm scale and anti-reflective glass enable perfect readability.
Robust: Especially impact-resistant due to its shatterproof polycarbonate construction.
Adjustable: The long cuff tube enables flexible work.
The best view for every measurement.
The expandable basic model seca b41 offers excellent readability with its large measuring scale. The 140 mm scale with anti-reflective glass offers the perfect view of all measurements from any perspective. The three-meter-long cuff tube offers the greatest freedom of use. The dial indicator is especially impact-resistant because it is manufactured out of shatterproof polycarbonate. In combination with the seca b94 it offers three different usage options: stationary with a wall or rail mounting or mobile with a rolling pedestal.
Basic model seca b41: With the seca b94 wall/rail mounting or mobile on rolling stand.
Key-Technical Data
Measuring range
0 - 300 mmHg
Main components
Polycarbonate
Technical Data
Technical Data
Measuring range
0 - 300 mmHg
Tolerance
1% of the measuring range
Membrane hub
1.145 mm by 300 mmHg
Total length incl. bulb
177 mm (height)
Classification
Medical device class 1 with measuring function
Valve
Chrome-plated brass, infinitely adjustable
Main components
Polycarbonate
Functions and Properties
Stationary
Copper Beryllium measuring unit
Medical plastics
For right- and left-handed users
Continuously variable automatic valve
Anti-reflective glass
Three-metre-long cuff tube
Latex free
DEHP free
PVC free
Cotton coated
Accessories