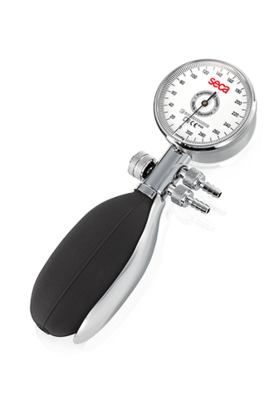 seca
b30
Product Number

B304801001
Manual blood pressure monitor with large scale and flexible options for use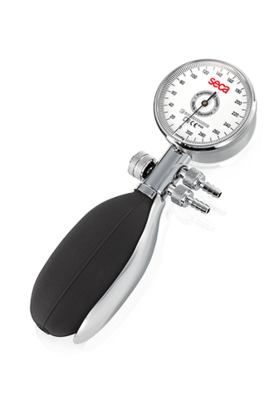 ‎£
‎£ 90.00
(‎£ 108.00 Inc. VAT)
Plus delivery costsShipping Costs
Above £ 100 order value: ‎‎£ 0
Below £ 100‎ order value: ‎£ 5
Dispatched within 5-10 working days
Quick Overview
Key-Technical Data
Blood pressure measurement range
0 - 300 mmHg
Blood pressure graduation
2 mmHg
Main components
Chrome-plated brass
Description
Product Properties
Material composition: High-quality materials, highly polished and aesthetically coordinated to one another.
Two-tube technology: Balances out pressure fluctuations and thereby protects the measuring unit.
Ergonomic: A perfect fit of bulb and handle for working without fatigue.
Designed for long-lasting precise work.
The demands are very high in everyday clinical work. The seca b 30 was precisely designed for these conditions because its high-quality material composition of chrome-plated brass guarantees the highest product quality and an especially long service life. The ergonomically designed model can be comfortably operated manually while being gentle on the arm and has an infinitely adjustable valve that can be easily adjusted using two fingers. The two-tube technology causes the air not to flow directly into the measuring element but rather first into the cuff in order to protect the delicate mechanism of the measuring unit. As a robust model, the seca b 31 of identical construction has a manometer cap made of thermoplastic elastomer. This cap only alters the weight to an insignificant extent but effectively protects the measuring unit from impacts and scratches.
Key-Technical Data
Blood pressure measurement range
0 - 300 mmHg
Blood pressure graduation
2 mmHg
Main components
Chrome-plated brass
Technical Data
Technical Data
Blood pressure measurement range
0 - 300 mmHg
Blood pressure measurement method
Ascultatory measurement
Blood pressure graduation
2 mmHg
Options
dial diameter =48mm, cuff size 1
Net weight
0.03 sts
0.21 kg
Total length incl. bulb
165 mm
Main components
Chrome-plated brass
Membrane hub
1,145 mm at 300 mmHg
Membrane material
CuBE (Copper beryllium)
Measuring tolerance
1% of the measuring range
Valve
Chrome-plated brass, infinitely adjustable
Functions and Properties
Cotton coated
DEHP free
Copper Beryllium measuring unit
Latex free
Mobile use
PVC free
Continuously variable valve
Chrome-plated brass
Accessories