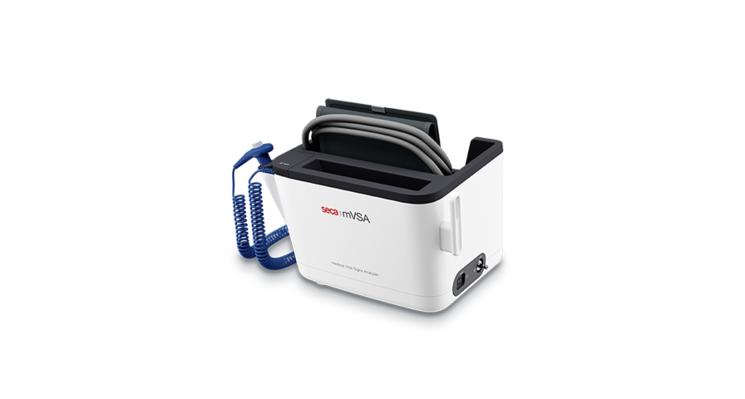 seca mVSA
526
Product Number

526 1010 001
The most advanced measurement technology in the Smart Bucket with NIBP, temperature, and SpO2 measurement.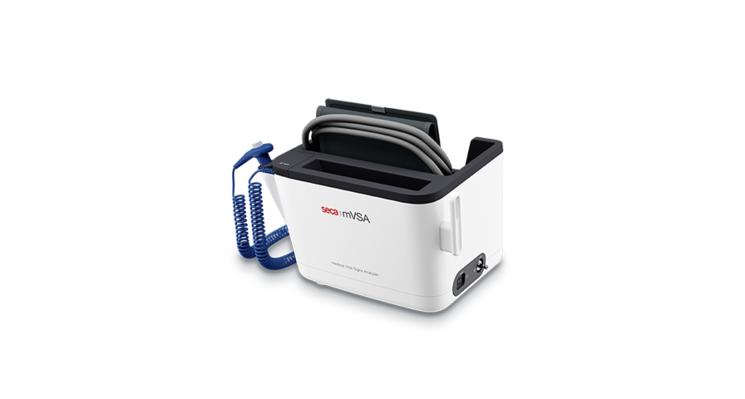 Delivery Time on Request
Current mVSA configuration:

Blood Pressure + Pulse

without SpO2 module

FILAC Temp oral/axillary
Quick Overview
Key-Technical Data
Dimensions (WxHxD)
248 x 162 x 187 mm
Blood pressure measurement method
Oscillometric, deflation or inflation measurement
Blood pressure measurement range
Deflation measurement (start pressure adjustable 80 mmHg - 280 mmHg): pSYS: 25 - 280 mmHg; pDIA: 10 - 220 mmHg; pMAP: 15 - 260 mmHg Inflation measurement: pSYS: 77 - 200 mmHg; pDIA: 45 - 190 mmHg; pMAP: 56 - 193 mmHg;
Blood pressure measurement time
Normal: 15 - 20 sec / max. 90 sec (adults)
Temperature measurement method
oral/axillary (direct or predictive)
Temperature measurement response time
Predictive (oral) < 3 - 10 sec; Predictive (axillary/rectal) < 8 - 14 sec; Direct 60 - 120 sec
Blood pressure measurement accuracy (under laboratory conditions)
Mean deviation pSYS, pDIA, pMAP: max. ± 3 mmHg
Scope of Delivery
Removable Smart Bucket with integrated Vital Signs Moduls: for blood pressure and temperature measurement
seca cuff (size M), FILAC temperature probes blue, 2x FILAC probe cover (Box á 20 pcs)
Description
Product Properties
Automatically recognizes connected modules
Able to be mounted on the stand
Does not require an additional power source
Simple removal and clean storage all of the sensors
Cable management: blood pressure, temperature, SpO2, and bioelectrical impedance analysis
Large internal memory for up to 70,000 measurements
Upgrade for the seca mBCA 525
The upgrade for the seca mBCA 525.
The Smart Bucket for the seca mBCA 525 combines the most advanced medical measurement technology with well thought-out cable management. Its processor processes the four conventional vital signs of blood pressure, SpO2, pulse rate, and temperature as well as the parameters of an entire body composition analysis consisting of fat, water, and muscle content and presents the measurement results on a separately available monitor.
Key-Technical Data
Dimensions (WxHxD)
248 x 162 x 187 mm
Blood pressure measurement method
Oscillometric, deflation or inflation measurement
Blood pressure measurement range
Deflation measurement (start pressure adjustable 80 mmHg - 280 mmHg): pSYS: 25 - 280 mmHg; pDIA: 10 - 220 mmHg; pMAP: 15 - 260 mmHg Inflation measurement: pSYS: 77 - 200 mmHg; pDIA: 45 - 190 mmHg; pMAP: 56 - 193 mmHg;
Blood pressure measurement time
Normal: 15 - 20 sec / max. 90 sec (adults)
Temperature measurement method
oral/axillary (direct or predictive)
Temperature measurement response time
Predictive (oral) < 3 - 10 sec; Predictive (axillary/rectal) < 8 - 14 sec; Direct 60 - 120 sec
Blood pressure measurement accuracy (under laboratory conditions)
Mean deviation pSYS, pDIA, pMAP: max. ± 3 mmHg
Scope of Delivery
Removable Smart Bucket with integrated Vital Signs Moduls: for blood pressure and temperature measurement
seca cuff (size M), FILAC temperature probes blue, 2x FILAC probe cover (Box á 20 pcs)