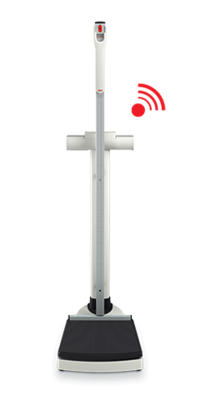 seca 704 s
Product Number 704 7721 123
EMR ready column scale with integrated measuring rod
Further details

‎£

‎£ 435.00*

Plus delivery costs
Product Properties
Integrated measuring rod with 1 mm division and measuring range up to 230 cm.
Compatible with all EMR Systems and EMR ready seca products.
Accurate, extremely robust seca scale technology for up to 300 kg.
Fine division 50 g < 150 kg > 100 g.
BMI, TARE, Auto-HOLD, Mother/Child function, adjustable damping.

The multi-talent with network capability.
Measuring and weighing in a single step – that is why the EMR ready column scale seca 704 s was developed. In addition to the patient's weight, the patient's height is also precisely measured with an integrated measuring rod up to 230 cm. The seca 704 s automatically determines the BMI from these two values. The results can immediately be sent wirelessly to a printer or EMR. Intelligent details simplify operation so the display can be operated when the patient is still standing on the scale and reading the measuring rod is easy through the printing on both sides. Using the time-saving TARE function, also known as the mother/child-function in pediatrics, the child can be weighed in its mother's arms without disturbance. The previously stored body weight of the mother is subtracted so that only the weight of the child is obtained. The heel positioner also makes reproducible height measurements possible by means of 3-point measurement.
Technical Data
Net weight: 2.8 sts / 17.6 kg
Measuring range: 6 - 230 cm
Platform width: 335 mm
Platform height: 80 mm
Platform depth: 345 mm
Product width: 360 mm
Product height: 1,408 mm
Product depth: 520 mm
Power supply: Batteries / Optional power adapter
Graduation: 50 g < 150 kg > 100 g
Graduation measuring range: 1 mm
Capacity: 300 kg
Batteries, quantity and type: 6 X AA
Functions and Properties
EMR ready
Acoustic signals can be activated
Auto-clear
Auto-HOLD
PRINT
SEND/Auto-SEND
Automatic switch-off
Automatic weighing range switch-over
BMI
Adjustable damping
HOLD
Integrated measuring rod
Mother/child function
Pre-TARE
RESET
TARE
Transport castors
Scope of Delivery
6 x AA batteries
Integrated measuring rod